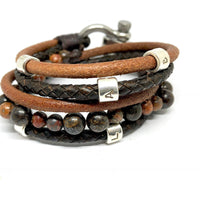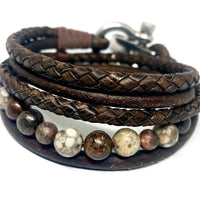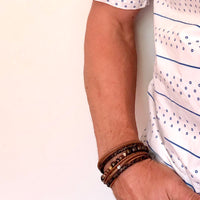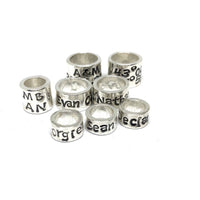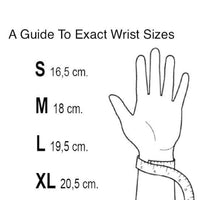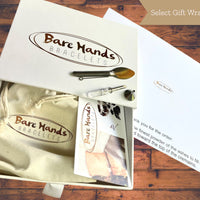 Unisex Leather Bracelet, Gifts for Him, Customised Cuff Bracelet, Mixed Gemstone Beads Bracelet Personalised
Description
One of our latest designs featuring our popular, classic wrap two tone bracelet, and a mixture of these beautiful 6mm Jasper, 8 mm Bronzite and 8mm Chinese maifanite beads.
As always there is also the option of personalising this bracelet with a choice of beads. The smaller beads wrap around one leather cord without sliding, the larger bead wraps around two cords in the same way and can fit more text
There are two different bead size options for this design. A larger bead going sound two cords to accomodate a name and date, or just around one cord - this is ' smallnamebead ' Please choose accordingly from the options menu options.
Each larger bead can fit approx 10-15 or so maximum characters and it can be possible to have name and birthdate . Please contact us if you have questions about customising the text -
What is Fine Silver ?

Fine silver is pure silver , or 99.9 % silver as opposed to Sterling silver with 92.5 % . You could say it is more precious ...and more desirable .
 PLEASE NOTE * This bracelet has a large shackle clasp , to accommodate the 5mm leather cords and also to look great- if you think this might be too big for you, or prefer something smaller and less chunky, we have the same design but in a 4mm leathers and smaller clasp.
Specifications

CLASP - This clasp is a stainless steel shackle clasp which has an adjustable 3 hole option for the most comfortable fit.

FINISH - The pure silver bead can be finished with a mirror shine, a matte duller finish or a brushed finish with a little patina giving a 'dirty' look.


SIZING - We need to know your exact wrist size (not the finished bracelet size). Please select your size from the dropdown menu.

Customisations
You can choose your add ons on this page and add them before you add the product to your cart.
You can add:

ACCESSORY BEADS - Complement your leather bracelet by adding quality stainless steel black or silver beads.

BULK MY BRACELET - Would you like to give your bracelet more of a 'wrap' feel? Choose from 4 or 6 cord antique brown quality leather wrap.

RUSH MY ORDER - Add this to your cart as a separate product and you will be guaranteed to have your order made and ready to ship the next working day, usually within 24 hours.
PERSONAL PREFERENCE -
Please contact me with any personal preferences for leather colours or style and I'll do my best to accommodate.
Shipping
Australian Orders
Australian orders are sent express with tracking, and the option of recorded/registered delivery (signed for).
International Orders
International orders have the option of a courier service for only a little extra. This will get to your door anywhere in the world in 3/4 days from shipping our end.