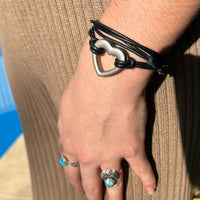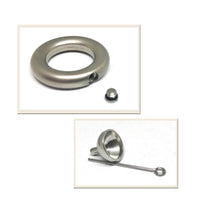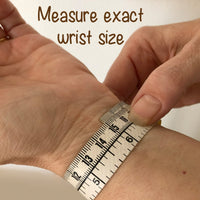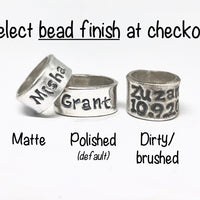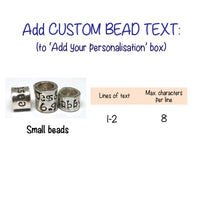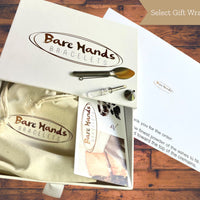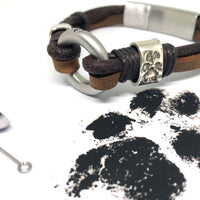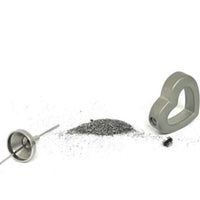 Timeless Keepsake: Black Leather Cords Cremation Jewelry Bracelet, Heart-Shaped Urn Ashes Bracelet, Memorial Jewelry Keepsake,
Description
This exquisite piece, handcrafted with utmost care, combines elegance with a touching tribute to your loved one. Our double wrap leather cremation bracelet features 2mm black round cords that beautifully embrace your wrist, while the centerpiece holds a heart-shaped stainless steel urn for ashes, symbolizing eternal love and cherished memories.
Crafted to perfection, this memorial bracelet showcases a stylish blend of premium materials. The supple leather bands, expertly selected, provide a comfortable and adjustable fit, ensuring it hugs your wrist snugly. Its sleek black round cords exude a timeless appeal, making it a versatile accessory for any occasion.
At the heart of this bracelet lies a profound sentiment. Our meticulously crafted stainless steel urn, delicately shaped like a heart, offers a discreet compartment to hold a small portion of your loved one's ashes. It serves as a lasting tribute, keeping their memory close to your heart wherever you go.
To ensure both security and ease of wear, we've equipped this bracelet with a sturdy stainless steel lobster clasp. It guarantees a reliable closure, allowing you to wear it with confidence while providing convenient access to the urn.
🌟 Showcase your devotion and pay homage to your beloved with this remarkable cremation jewelry bracelet. Whether you're searching for a personal memento or a sympathy gift for someone dear, this memorial bracelet will serve as a lasting reminder of the everlasting bond shared with your loved one.
🎁 Ideal for memorial ceremonies, daily remembrance, or as a heartfelt gift to express your condolences, this urn bracelet is a true testament to the enduring power of love. Order yours today and treasure the memories forever.
Please note: Each bracelet is lovingly handcrafted, making it unique and one-of-a-kind. The color and texture of the leather may slightly vary, ensuring that your bracelet is truly special.
Make it extra special by adding your custom engraving of a name, date or message onto pure silver personalised beads.
MORE SPECIFICATIONS:
Urn - You will receive an urn kit with tools to fill and seal the urn, and instructions to help. The stainless steel circle of life has a matte finish.
Clasp - The clasp is stainless steel with a snap-lock mechanism, to ensure that your bracelet stays securely in place, and your treasured beads stay safe. Easy to put on solo.
Sizing - We need to know your EXACT WRIST SIZE (not the finished bracelet size). Please select your size from the dropdown menu.
CUSTOM SILVER BEADS:
Silver beads - Please select desired number of beads from dropdown menu and enter personalisation.
- Small beads: 1-2 lines of text, max. 8 characters per line
Bead finishes (matte, brushed or polish) - The silver beads can be finished with a mirror polish shine, a matte duller finish or a brushed finish with a little patina giving a 'dirty' look. See photos. The default is polished shine - please state your finish preference at checkout.
Fit - The pure silver personalised beads are a perfect fit and will not slide around but can be moved, allowing you to manipulate the look to your desire.
WHAT IS FINE SILVER?
Fine silver is pure silver with 99.9% silver, as opposed to sterling silver with 92.5%. It is more precious...and more desirable.
HOW TO ORDER:
1. Select exact wrist size from the dropdown menu.
2. Select custom silver beads from the dropdown menu.
3. Add your personalisation for beads (dates, names, short message).
4. Hit the 'Add to cart' button and go to your cart to follow the checkout process.
5. State desired bead finish at checkout.
6. Patiently wait with excited anticipation, for the best purchase of your life...
---------------------------
ADD ACCESSORY BEADS:
Complement your leather bracelet by adding quality stainless steel black/silver beads. See photo.
Silver accessory beads: https://etsy.me/3d3ZUER
Black accessory beads: http://etsy.me/3dimFou
CUSTOMISATIONS: Please contact me with any personal preferences for leather colours or style and I'll do my best to accommodate.
---------------------------
Thank you for shopping at Bare Hands Bracelets!