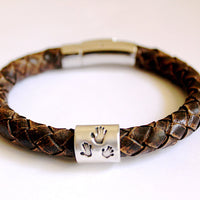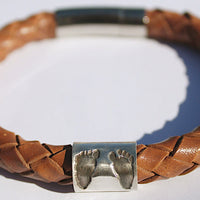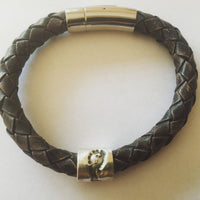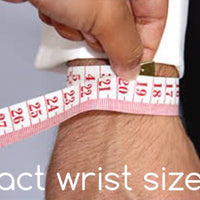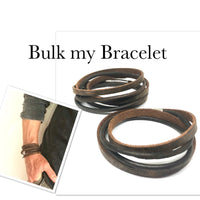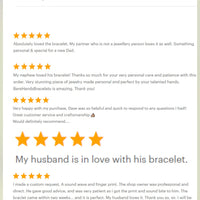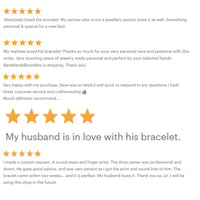 Silver Hand Print Handprint Silver Footprint Bead Mens Leather Personalised Bracelet Womens Bracelet Footprint Charm Silver Hand Print Charm
Description
THE RBO and Actual Foot or Handprint !
This best selling, simple but stylish bracelet is made to last a looong time! It boasts our thickest leather band at 8mm, perfect for a larger men's wrist or for a 'chunky' look on a female wrist. You will receive an antique brown braided leather bracelet with a pure silver personalised bead or beads.
CLASP - The clasp is stainless steel with a snap close mechanism, to ensure the safety of your treasured beads.
FINISH - The pure silver bead can be finished with a mirror shine, a matte duller finish or a brushed finish with a little patina giving a 'dirty' look. The default will be a polished shine - please state your preferences at checkout.
SIZING - We need to know your exact wrist size (not the finished bracelet size). Please see the size conversion chart in the listing photos and then select your size from the dropdown menu.
*Please state at checkout if you would like the optional, circular cord either side of the bead.
HOW TO ORDER
1. Select from the 'Silver Bead Size' drop down menu.
2. Select wrist 'size' from the drop down menu.
3. Enter your custom text to be engraved on the silver bead in the 'Personalisation' box.
4. Hit the 'Add to cart' button and go to your cart to follow the checkout process.
5. Patiently wait with excited anticipation, for the best purchase of your life...
Shop similar bracelets:
*White version - etsy.me/2JzAkdE
*Black version - etsy.me/2Yhtc9h
*Antique Brown - https://etsy.me/2JMQ1y9
* PRINT TAKING FOR HANDS AND FEET
The process of getting your little ones prints to us ( or oldies ) , for embedding onto pure silver is quite easy !
Some people might already have painted prints from another time - in which case simply scan, or take a reasonable photo of the prints and send it to us .
There are a couple of ways to take the prints -
1. We send you ( anywhere in the world ) a magic inkless print set which is very easy to use , is stress free for the little one and no mess.
2. You have some fun with water based paint ( a darkish colour ) and some white paper .
Don't worry if the prints are not perfect or slightly smudged as we can edit these during the process .
Once you are happy with your prints , scan or take a photo ( a smart phone pic is good enough ) and send them on to BareHandsPersonalisedJewellery@hotmail.com . Sit back and let us work the magic capture those prints on silver , for ever .