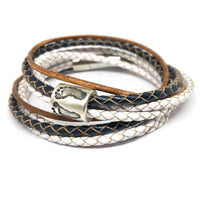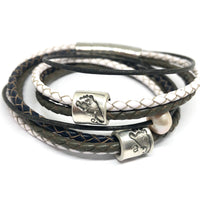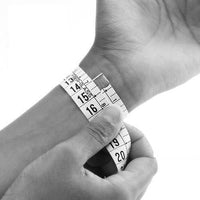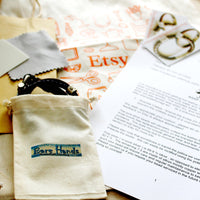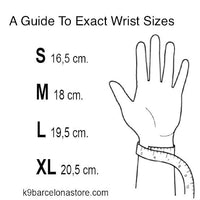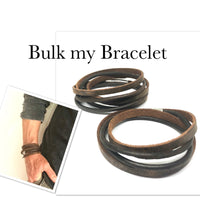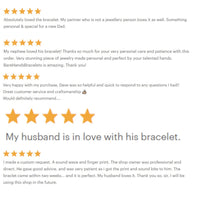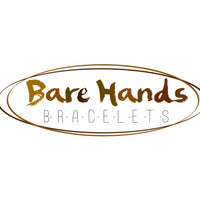 Silver Foot Print Bracelet, New Mum Bracelet, Bracelet Femme, Mothers day Gift
Description
Women's personalised bracelet with pure silver personalised bead or beads, and a beautiful complimenting freshwater pearl on three braided 3mm silver, white and dark blue braids. They wrap around the wrist twice to give a multi wrap look .
The clasp we use is stainless steel with a snap close mechanism , to ensure safety of your treasured beads.
Matte or Polish Bead - The pure silver bead can be finished with a mirror shine, a matte duller finish or a brushed finish with a little patina giving a ' dirty' look. The default will be a polished shine- please state if you would like a different finish at checkout.
Please also choose from the options , the exact wrist size ( not bracelet size ) . A good way to do this is to place string around the wrist and then measure the string with a ruler .
As a rule, an average ladies wrist will measure 16cm
These bracelets can also hold our pure silver handprint or footprint beads .
HANDPRINT AND FOOTPRINT BEADS
* PRINT TAKING FOR HANDS AND FEET
The process of getting your little ones prints to us ( or oldies ) , for embedding onto pure silver is quite easy !
Some people might already have painted prints from another time - in which case simply scan, or take a reasonable photo of the prints and send it to us .
Have some fun with water based paint ( a darkish colour ) and some white paper .
Don't worry if the prints are not perfect or slightly smudged as we can edit these during the process .
Once you are happy with your prints , scan or take a photo ( a smart phone pic is good enough ) and send them on to BareHandsPersonalisedJewellery@hotmail.com . Sit back and let us work the magic capture those prints on silver , for ever .
What is Fine Silver ?
Fine silver is pure silver , or 99.9 % silver as opposed to Sterling silver with 92.5 % . You could say it is more precious ...and more desirable .
Please use these conversions to help you choose which wrist size during checkout...
15 cm 5.90 Inches
16 cm 6.29 Inches
17 cm 6.69 Inches
18 cm 7.08 Inches
19 cm 7.4 Inches
20 cm 7.87 Inches
21 cm 8.2 Inches