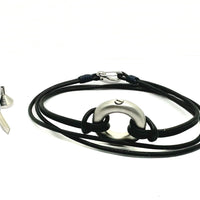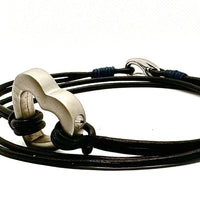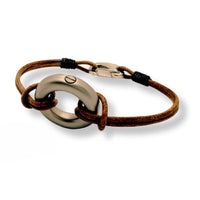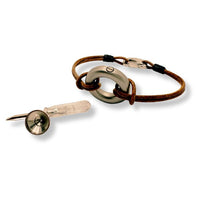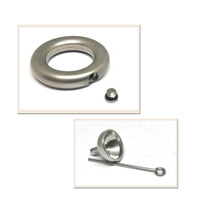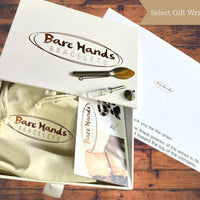 Rustic Ashes Jewellery Modern Per Urn Anklet, Pet Urn For Dogs, Horse Memorial Anklet, Double Wrap Leather Cremation Anklet, Black or Brown
Description
Our premium handmade Double Wrap Leather Cremation Anklet is a beautiful way to keep your loved one close to your heart. Made with premium 2mm quality round leather cord, this anklet features a discreet urn charm that allows you to carry a small amount of your loved one's ashes with you wherever you go. Select between a circular or heart shape urn, and tan, antique brown or black leather.
We understand how important it is to have a piece of jewellery that honours the memory of your loved one, which is why we handcraft each anklet with care and attention to detail. The natural leather design gives this anklet a timeless, rustic appeal that is perfect for everyday wear, while the lobster clasp ensures a secure fit.
Whether you're looking for a way to memorialise your own loved one or searching for a meaningful gift for a friend or family member, our Double Wrap Leather Cremation Anklet with Keepsake Urn is a beautiful and personalised choice. With a choice between black, tan or dark tan (antique brown), this anklet is a unique and subtle way to honour the life of your loved one.
We take pride in creating premium quality memorial jewelry that you will treasure for years to come, and we hope that our Tan Leather Cremation Anklet with Circular Urn brings you comfort and peace during difficult times.
ANKLET SPECIFICATIONS:
Urn - You will receive an urn kit with tools to fill and seal the urn, and instructions to help. The stainless steel circle of life has a matte finish. Please select your choice of circular or hear shaped urn.
Clasp - The clasp is stainless steel lobster-style, to ensure that your bracelet stays securely in place. Easy to put on solo.
Sizing - Please select your size from the dropdown menu.
Leather color - Please state your leather colour preference at checkout. The default is tan. Other options are black or dark tan.
SIZE AND FIT:
An important considerations is the fit and size of your anklet. This can be influenced by the size of your ankle and your preferred fit (tight, loose, or somewhere in between). To ensure the right fit, start by measuring your ankle and comparing it to the size options. Based on your desired fit, you can then determine the appropriate length for your anklet.
SIZE GUIDE:
- Tight fit: Your ankle measurement + 1 cm.
- Comfort fit: Your ankle measurement + 2 cm.
- Loose fit: Your ankle measurement + 3 cm.
HOW TO ORDER:
1. Select your size anddesired color option from the dropdown menu.
2. Hit the 'Add to cart' button and go to your cart to follow the checkout process.
3. Add a note (optional).
4. Patiently wait with excited anticipation, for the best purchase of your life...
CUSTOMISATIONS: Please contact me with any personal preferences for leather colours or style and I'll do my best to accommodate.
---------------------------
Thank you for shopping at Bare Hands Bracelets!