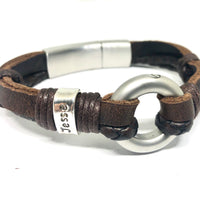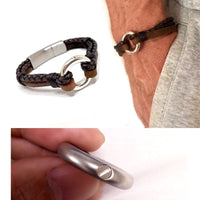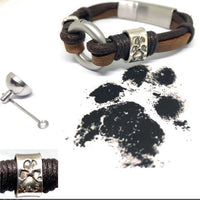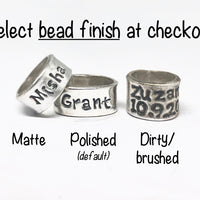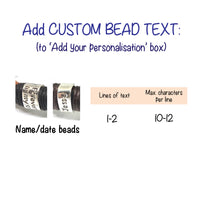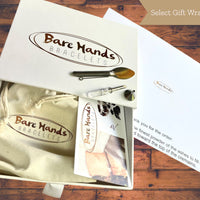 Urn Bracelet for Human Ashes, Paw Print Beads, Pet Cremation Jewelry, Ashes Jewelry, Memorial Jewelry, Circle of Life, Leather Urn Bracelet
Description
Celebrate your loved one or beloved pet with this chunky, unisex leather memorial bracelet, in contrasting flat and round braid leathers. Customise your bracelet with a pure silver hand-stamped paw print bead or a name/date bead.
This discreet piece of jewelry features a stainless steel circle of life urn pendant, which keeps your loved ones or pets close to you and celebrates their lives every day.
A beautiful gift for yourself or a friend/family member, the perfectly round circle of life pendant has a screw and small void, which allows you to fill with ashes, hair or anything small enough that reminds you of that special one.
CUSTOM SILVER BEADS: (select from dropdown menu & enter personalisation)
Name bead text: 1-2 lines of text, max. 10-12 characters per line
Paw print beads: (2 choices)
1. Generic paw print
2. Actual paw print - please MESSAGE me a paw print of your pet
Bead finishes (matte, brushed or polish) - The silver beads can be finished with a mirror polish shine, a matte duller finish or a brushed finish with a little patina giving a 'dirty' look. See photos. The default is polished shine - please state your finish preference at checkout.
Fit - The pure silver personalised beads are a perfect fit and will not slide around but can be moved, allowing you to manipulate the look to your desire.
WHAT IS FINE SILVER?
Fine silver is pure silver with 99.9% silver, as opposed to sterling silver with 92.5%. It is more precious...and more desirable.
Specifications
URN - You will receive an urn kit with tools to fill and seal the urn, and instructions to help. The stainless steel circle of life has a matte finish.
CLASP - The clasp is stainless steel with a snap close mechanism, to ensure the safety of your treasured beads.
FINISH - The pure silver bead can be finished with a mirror shine, a matte duller finish or a brushed finish with a little patina giving a 'dirty' look.

SIZING - We need to know your exact wrist size (not the finished bracelet size). Please select your size from the dropdown menu.

Customisations
You can choose your add ons and add the customisations to your cart separately.
You can add:
ACCESSORY BEADS - Complement your leather bracelet by adding quality stainless steel black or silver beads.
BULK MY BRACELET - Would you like to give your bracelet more of a 'wrap' feel? Choose from 4 or 6 cord antique brown quality leather wrap.

RUSH MY ORDER - Add this to your cart as a separate product and you will be guaranteed to have your order made and ready to ship the next working day, usually within 24 hours.
PERSONAL PREFERENCE - Please contact me with any personal preferences for leather colours or style and I'll do my best to accommodate.
Shipping
Australian Orders
Australian orders are sent express with tracking, and the option of recorded/registered delivery (signed for).
International Orders
International orders have the option of a courier service for only a little extra. This will get to your door anywhere in the world in 3/4 days from shipping our end.
Customer Reviews
28 January 2023
Yvonne K.

Netherlands
Beautiful
Love the bracelet. Ordered it from the Netherlands, it looks just like the picture!!
20 September 2022
Joshuah S.

United States
Astounded
I was extremely excited even before I opened the box. I knew what I ordered, but couldn't explain the emotion when I seen it in person. It was one of the best things I have ever bought for myself and my brothers. I couldn't have asked for anything better to wear to keep my dad close. Thank you David for your well made product and customer service. Second to none.
11 April 2022
Jon F.

Australia
Great quality
The ordering process was simple and even specific extra instructions were followed as requested. Thanks