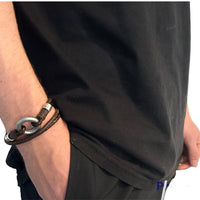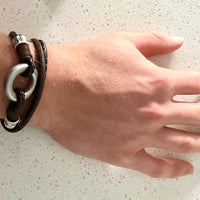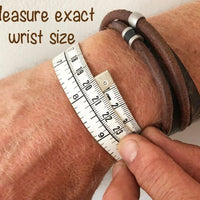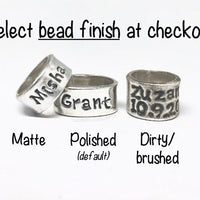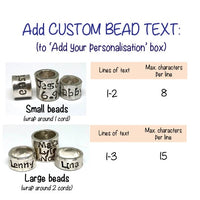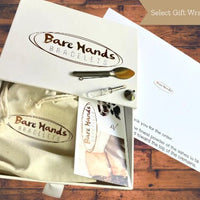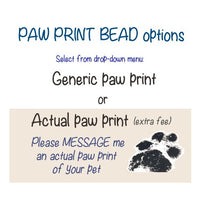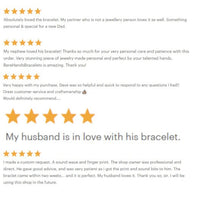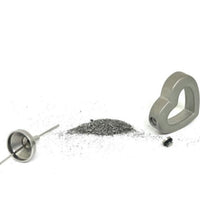 Dark Brown Memorial Bracelet, Cremation Bracelet for Men, Urn for Ashes, Leather Wrap Bracelet, Pet Memorial Bracelet
Description
Introducing our exquisite Dark Brown Double Wrap Leather Cremation Bracelet for Men - the perfect tribute to your loved one who has passed away. Crafted from premium quality 4mm round and braided leather cords, this bracelet boasts a timeless and elegant look that's perfect for any occasion.
Designed with comfort and durability in mind, this bracelet features a sturdy stainless steel lobster clasp that ensures a secure and snug fit. The pure fine silver bead can be engraved with a special message or initials, making it a truly personal and meaningful piece of jewelry.
Looking for something even more unique? You have the option to add more beads to this bracelet, making it a truly one-of-a-kind keepsake accessory.
This bracelet is the perfect way to keep your loved one close to your heart, and its versatile design makes it suitable for any outfit or occasion. Whether you wear it on a daily basis or save it for special occasions, this bracelet is sure to become a cherished piece in your jewelry collection.
At Bare Hands Bracelets, we take pride in creating unique and meaningful pieces of jewellery. Our Urn Bracelet for Men is no exception – it's a beautiful way to cherish your memories and carry them with you always.
Our Dark Brown Double Wrap Leather Cremation Bracelet for Men is a beautiful and meaningful way to honor and remember your loved one. Order yours today and keep their memory alive in style.
BRACELET SPECIFICATIONS:
Urn - You will receive an urn kit with tools to fill and seal the urn, and instructions to help. The stainless steel circle of life has a matte finish.
Clasp - The clasp is stainless steel with a lobster clasp mechanism, to ensure that your bracelet stays securely in place, and your treasured beads stay safe.
Sizing - We need to know your EXACT WRIST SIZE (not the finished bracelet size). Please select your size from the dropdown menu.
CUSTOM SILVER BEADS: (select from dropdown menu & enter personalisation)
Name bead text: 1-2 lines of text, max. 10-12 characters per line
Paw print beads: (2 choices)
1. Generic paw print
2. Actual paw print - please MESSAGE me a paw print of your pet
Bead finishes (matte, brushed or polish) - The silver beads can be finished with a mirror polish shine, a matte duller finish or a brushed finish with a little patina giving a 'dirty' look. See photos. The default is polished shine - please state your finish preference at checkout.
Fit - The pure silver personalised beads are a perfect fit and will not slide around but can be moved, allowing you to manipulate the look to your desire.
WHAT IS FINE SILVER?
Fine silver is pure silver with 99.9% silver, as opposed to sterling silver with 92.5%. It is more precious...and more desirable.
HOW TO ORDER:
1. Select exact wrist size from the dropdown menu.
2. Select custom silver beads from the dropdown menu.
3. Add your personalisation for beads (dates, names, short message).
4. Hit the 'Add to cart' button and go to your cart to follow the checkout process.
5. State desired bead finish at checkout.
6. MESSAGE me your actual paw print, if purchasing.
7. Patiently wait with excited anticipation, for the best purchase of your life...
---------------------------
CUSTOMISATIONS: Please contact me with any personal preferences for leather colours or style and I'll do my best to accommodate.
---------------------------
Thank you for shopping at Bare Hands Bracelets!