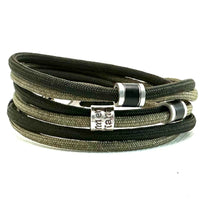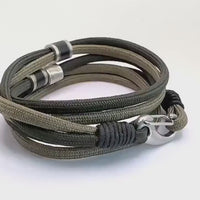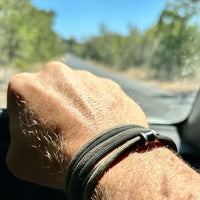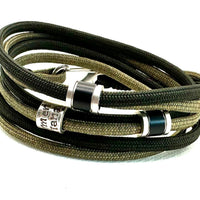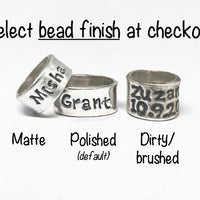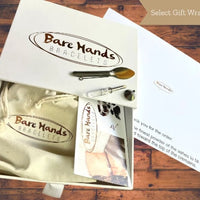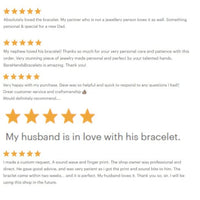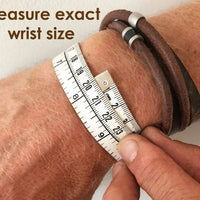 Custom Paracord Bracelet for Men, Triple Wrap Bracelet, Non Leather, Vegan Friendly Gift
Description
Looking for a stylish accessory that's perfect for any man? Look no further than this army green and olive beaded paracord bracelet, which is triple-wrapped in premium quality nylon paracord bands.
Crafted from the finest materials, this bracelet is custom made and handmade with the utmost care and attention to detail. The blend of army green and dark olive colors gives it a rugged yet sophisticated look, making it the perfect addition to any outfit.
Featuring a lobster clasp closure, this bracelet is easy to put on and take off, while ensuring that it stays securely in place when worn. The high-quality paracord bands are strong and durable, meaning that this bracelet will last for years to come.
This beaded paracord bracelet also makes a great gift for any occasion, whether it's a birthday, anniversary, or just because. With its unique design and high-quality construction, it's sure to impress any man who appreciates quality craftsmanship.
The basic bracelet comes with a single bead, but you can add more from the options.
So why wait? Order your beaded paracord bracelet today and start enjoying the style and quality that only a handmade accessory can provide!
**This is a triple wrap, giving it a ' 6 cord' look. A double wrap version can be found here ..https://etsy.me/3g8jkvY
***Let us know if you would like different colour options, else the default will be selected (sand and dark).
You will get:
◾Triple wrap (6 cords) paracord bracelet for men with optional personalized engraved silver beads.
◾Mix of 4mm high quality, durable paracord - various color options.
◾Lobster style clasp for comfort and extra safe bracelet securing to the wrist.
◾The bracelet can be worn alone or matched with another bracelet.
◾It can be customized according to your personal preference with engraved pure silver custom beads, or black/silver stainless steel accessory beads.
◾Engraving ideas: names, special dates, inscriptions, inspirations and more.
◾A simple, modern and trendy bracelet making it the perfect gift for him for any occasion like an anniversary, wedding, or Christmas.
BRACELET SPECIFICATIONS:
Clasp - The clasp is stainless steel with a lobster clasp mechanism, to ensure that your bracelet stays securely in place and your treasured beads stay safe.
Sizing - We need to know your EXACT WRIST SIZE (not the finished bracelet size). Please select your size from the dropdown menu.
CUSTOM SILVER BEADS:
Fit - The pure silver personalized beads are a perfect fit and will not slide around but can be moved, allowing you to manipulate the look to your desire.
Silver bead finishes:
1. Mirror polish shine
2. Matte duller finish
3. Brushed finish (a patina 'dirty' look)
See photos. The default is polished shine.
Please state your preference at checkout.
WHAT IS FINE SILVER?
Fine silver is pure silver with 99.9% silver, as opposed to sterling silver with 92.5%. It is more precious...and more desirable.
HOW TO ORDER:
1. Select exact wrist size from the dropdown menu.
2. Select custom silver beads from the dropdown menu.
3. Add your personalization for beads (dates, names, short message).
4. Hit the 'Add to cart' button and go to your cart to follow the checkout process.
5. State desired bead finish at checkout.
6. MESSAGE me your actual paw print, if purchasing.
7. Patiently wait with excited anticipation, for the best purchase of your life...