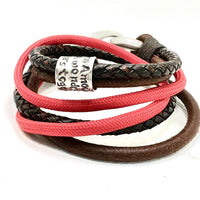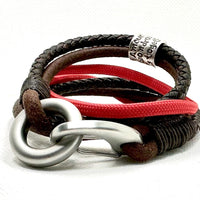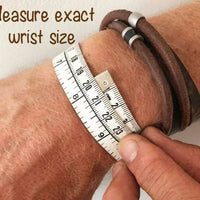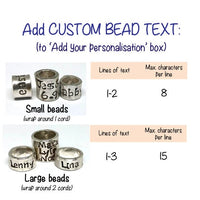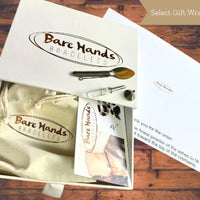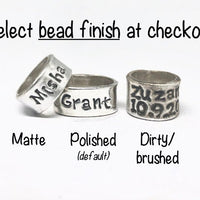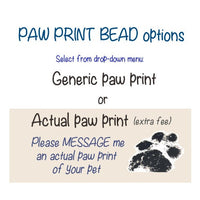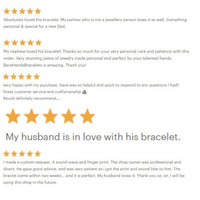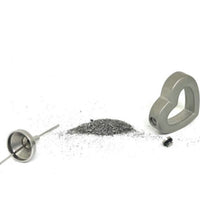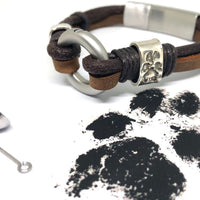 Brown Leather and Paracord Wrap Cremation Bracelet for Men, Urn Bracelet, Memorial Bracelet Keepsake for Ashes
Description
Losing a loved one is never easy, and finding a meaningful way to keep their memory alive can be even harder. That's why we created the Brown Leather and Paracord Wrap Cremation Bracelet for men - a stylish and practical way to honour and cherish your loved one's memory.
Crafted from premium natural leather and nylon paracord, this bracelet is not just a piece of jewellery - it's a touching memorial that will keep your loved one close to your heart. With its unique design and circular urn, you can keep a small amount of ashes, hair, or other sentimental keepsakes in a discreet yet beautiful way.
Our bracelet is designed for maximum comfort and durability, with a lobster-style stainless steel clasp that ensures a secure fit. It's perfect for everyday wear, and the perfect way to carry your loved one's memory with you wherever you go.
At Bare Hands Bracelets, we understand how important it is to keep the memory of your loved one alive, and that's why we only handcraft premium quality products. So why settle for ordinary cremation jewellery when you can have a meaningful and personalised memorial bracelet that's as unique as your loved one?
Order now and let our Brown Leather and Paracord Wrap Cremation Bracelet help you honour the memory of your loved one in a stylish and meaningful way.
BRACELET SPECIFICATIONS:
Urn - You will receive an urn kit with tools to fill and seal the urn, and instructions to help. The stainless steel circle of life has a matte finish.
Clasp - The clasp is stainless steel lobster claw clasp, to ensure that your bracelet stays securely in place, and your treasured beads stay safe.
Sizing - We need to know your EXACT WRIST SIZE (not the finished bracelet size). Please select your size from the dropdown menu.
CUSTOM SILVER BEADS: (select from dropdown menu & enter personalisation)
Name bead text: 1-2 lines of text, max. 10-12 characters per line
Paw print beads: (2 choices)
1. Generic paw print
2. Actual paw print - please MESSAGE me a paw print of your pet
Bead finishes (matte, brushed or polish) - The silver beads can be finished with a mirror polish shine, a matte duller finish or a brushed finish with a little patina giving a 'dirty' look. See photos. The default is polished shine - please state your finish preference at checkout.
Fit - The pure silver personalised beads are a perfect fit and will not slide around but can be moved, allowing you to manipulate the look to your desire.
WHAT IS FINE SILVER?
Fine silver is pure silver with 99.9% silver, as opposed to sterling silver with 92.5%. It is more precious...and more desirable.
HOW TO ORDER:
1. Select exact wrist size from the dropdown menu.
2. Select custom silver beads from the dropdown menu.
3. Add your personalisation for beads (dates, names, short message).
4. Hit the 'Add to cart' button and go to your cart to follow the checkout process.
5. State desired bead finish at checkout.
6. MESSAGE me your actual paw print, if purchasing.
7. Patiently wait with excited anticipation, for the best purchase of your life...
---------------------------
CUSTOMISATIONS: Please contact me with any personal preferences for leather colours or style and I'll do my best to accommodate.
---------------------------
Thank you for shopping at Bare Hands Bracelets!