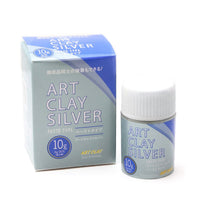 Art Clay Silver Paste, Fine Silver Metal Clay Supplies, Low Firing Precious Metal Clay Paste to Attach Findings and Wiring
Description
Create stunning fine art pieces of jewellery, pendants and bracelets.
A unique manufacturing process creates this silver metal art clay paste. Craft beautiful pieces of jewellery quickly and live out your creative side!
Paste Type Art Clay Silver offers you a premium quality fine silver paste to use in your jewelry making. The micro silver metal particles are combined with harmless organic pulp binding agents and water. It becomes solidified pure silver when you shape it like clay and fire it.
You can combine this paste with glass, porcelain and ceramic materials, and it is also suitable for firing with sterling silver findings or wires.
About Art Clay Silver Paste:
- Microscopic Silver Powder combined with non-toxic binders and water to form a precious metal clay paste
- It contains more water for a runny consistency
- Fires to 99.9% pure silver at lower firing temperatures (you can use a blow-torch or gas stove-top)
- Easily attach to silver findings and wires
- Buy with confidence from Australian jewellery artisan and distributor – Bare Hands Bracelets