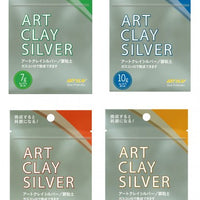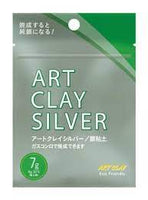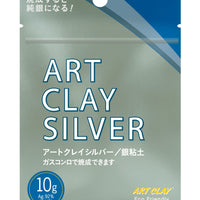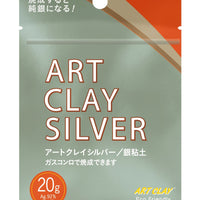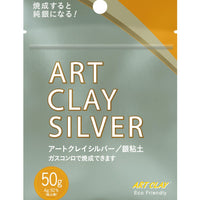 Silver Clay Type - Art Clay Silver
Description
A special manufacturing process forms our unique silver metal art clay. It is very durable and does not require any special treatment.
The micro silver metal particles are combined with organic binding agents and water. It becomes pure silver when you shape it like clay and fire it.
This product is low-fire clay that can be fired at 650ºC/1200ºF and is pure silver (99.9%) after firing. 
You can create beautiful pieces of jewellery and bracelets. It is effortless to work with and fires quickly. You can fire the clay at low temperatures and store your products for years without losing their shine.
New formula Art Clay Silver shrinks less than clay fired at higher temperatures. The surface is smooth and shiny after firing.
You can shape the clay into any form. The process is quite simple. After you have shaped the clay, you simply fire using an open flame, like a gas stovetop or propane torch.
Buy with confidence from the trusted Australian distributor Bare Hands Bracelets!
How to easily craft silver jewellery with Art Clay Silver
To create beautiful silver beads, jewellery components and pendants, all you need to do is follow these easy steps:
Knead your clay until it's the right thickness and composition for you to mould and work with.

Mould the clay into any shape and form you like.

Fire your piece using a gas stove top or propane torch to burn away the binding compounds. 
Enjoy your stunning pure silver piece of jewellery!
About Our Art Clay Silver Clays:
Precious Metal Clay that combines Microscopic Silver Powder with non-toxic binders and water

Shape and work it like clay

Fires to 99.9% pure silver at lower firing temperatures

Lower shrinkage than PMC3, which means you get longer working time

Create one of a kind piece of jewellery

Buy with confidence from Australian jewellery artisan and distributor – Bare Hands Bracelets
Clay Type compared to Paste Type Art Clay Silver
Clay Type
The clay type silver metal clay can be used the same way as regular clay, modelling and sculpting your piece into an artistic shape.
Moisture is essential to keep the clay flexible and workable.
When the clay cracks while you work, use a brush or a wet cloth to moisten it.
Paste Type
By default, Paste carries more water than the clay type and has the consistency of melted ice cream. Only transfer the amount you need from the jar to a small tray, and use more water to make the thickness you desire.
You can use the silver paste in various ways:
Join two pieces of dry or wet clay together.

Filling gaps for pits and cracks in drying pieces.

Attach silver findings (screw eyes, tailbacks, brooch findings, etc.) to dried or wet clay pieces. The normal contraction of the clay bonds the findings during the firing process.

When applied in separate layers onto organic forms such as leaves, dried flowers, paper-origami, etc., Paste type creates a perfect impression of the form.