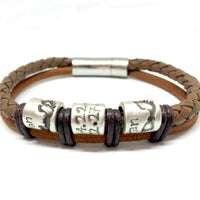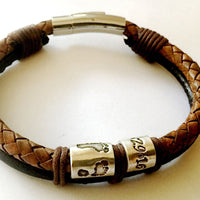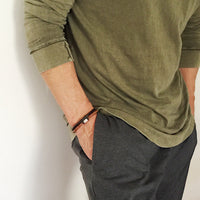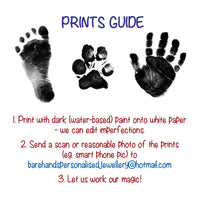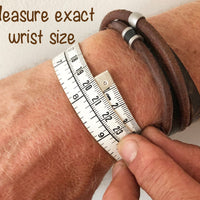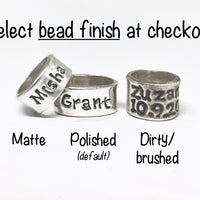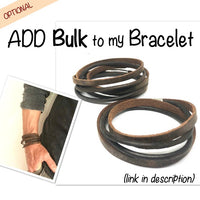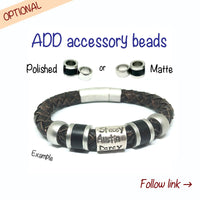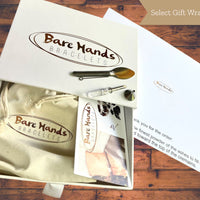 Actual Silver Footprint Handprint Pawprint Jewelry, Baby Hand Print Bead, Custom Bracelet, Womens Mens Leather Bracelet Gift for New Dad Mom
Description
Capture your loved ones' actual handprint, footprint, or pawprint on our most popular double brown vintage leather bracelet.
Make it even more special by adding extra engraved pure silver custom beads - with a date, name or message. A perfect gift for a new mum, dad, or grandparent!
Print-taking is fun and easy - please see our 'easy print-taking guide' below.
Note: Different colour options are available for the round cord - just note your colour preference at checkout (medium tan or dark tan). The default is medium tan.
BRACELET SPECIFICATIONS:
Clasp - The clasp is stainless steel with a snap-lock mechanism, to ensure that your bracelet stays securely in place, and your treasured beads stay safe. Easy to put on solo.
Sizing - We need to know your EXACT WRIST SIZE (not the finished bracelet size). Please select your size from the dropdown menu.
CUSTOM SILVER BEADS:
Please select desired number of hand/foot/pawprint beads AND engraved beads from dropdown menu and enter personalisation.
- Small engraved beads: 1-2 lines of text, max. 8-10 characters per line
Bead finishes (matte, brushed or polish) - The silver beads can be finished with a mirror polish shine, a matte duller finish or a brushed finish with a little patina giving a 'dirty' look. See photos. The default is polished shine - please state your finish preference at checkout.
Fit - The pure silver personalised beads are a perfect fit and will not slide around but can be moved, allowing you to manipulate the look to your desire.
WHAT IS FINE SILVER?
Fine silver is pure silver with 99.9% silver, as opposed to sterling silver with 92.5%. It is more precious...and more desirable.
HOW TO ORDER:
1. Select exact wrist size from the dropdown menu.
2. Select silver print beads and engraved beads from the dropdown menu.
3. Add your personalisation for beads (dates, names, short message).
4. Hit the 'Add to cart' button and go to your cart to follow the checkout process.
5. State desired bead finish and round cord colour preference at checkout.
6. Send your hand/foot/pawprints to barehandspersonalisedjewellery@hotmail.com
7. Patiently wait with excited anticipation, for the best purchase of your life...
---------------------------
** EASY PRINT-TAKING GUIDE:
1. Have some fun printing hands/feet/paws with a dark, water-based paint onto white paper. We can edit smudges or slight imperfections during the process.
2. Once you are happy with your prints, simply send us a scan or reasonable photo of the prints (a smart phone pic is good enough) to barehandspersonalisedjewellery@hotmail.com
3. Sit back and let us work the magic to capture those prints onto silver, forever.
---------------------------
ADD ACCESSORY BEADS:
Complement your leather bracelet by adding quality stainless steel black/silver beads. See photo.
Silver accessory beads: https://etsy.me/3d3ZUER
Black accessory beads: http://etsy.me/3dimFou
ADD BULK to my BRACELET: https://etsy.me/39BNWR4
Would you like to give your bracelet more of a 'wrap' feel? Choose from 4 or 6 cord antique brown quality leather wrap. Add this listing to your order.
CUSTOMISATIONS: Please contact me with any personal preferences for leather colours or style and I'll do my best to accommodate.
---------------------------
Thank you for shopping at Bare Hands Bracelets!
Shop more print bracelets here: https://etsy.me/3u8Uy3v
Change your wrist for ever.